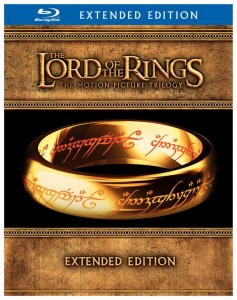 Tolkien fans can finally get the extended versions of Peter Jackson's 'Lord of the Rings Trilogy' after enduring over a year of temptation to nibble on the condensed theatrical versions of the films. Diehard LOTR fans were pissed about the double dipping, and rightfully so. But, some redemption can be found knowing that the extended versions (adding a total of 123 minutes to the actual films) are now available to purchase online and in-stores. Good news too in that Amazon has got the Extended Trilogy marked down to $69 bucks, which is about $15 less than the pre-order pricing (although pre-order customers do pay the price at time of shipping).

The Lord of the Rings Extended Edition Trilogy on Blu-ray contains six Blu-ray Discs and nine DVDs with all the features, footage and appendices previously released on DVD. Each film contains added footage not seen in the theatrical versions (30 minutes added to 'Return of the King'; 43 minutes added to 'The Two Towers'; and 50 minutes added to 'Return of the King'). The LOTR Trilogy also contains digital copies of the film.
Full details about The Lord of the Rings Extended Trilogy can be found here.