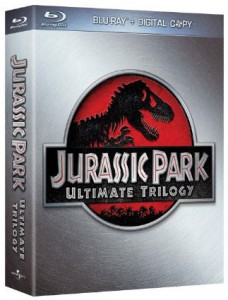 Universal Studios has announced the upcoming release of the Jurassic Park Ultimate Trilogy on Blu-ray Disc. It's one of Michael Crichton's finest creations, and one of those films you gotta check out in hi-def. The digitally restored films from Spielberg and co. will be presented in 1080p with 7.1 channel surround sound and over two hours of new bonus material. Digital copies of the films will also be provided, letting you watch the Jurassic trilogy on your laptop, smartphone, or other mobile device.
The new bonus features include a six-part documentary with cast members, filmmakers, and director Steven Spielberg. Exclusive Blu-ray features include BD-Live, My Scenes, and pocket BLU (allowing smart phones and mobile devices to interface with your internet-connected Blu-ray player).
Jurassic Park Ultimate Trilogy will release October 25, 2011 on Blu-ray Disc as well as DVD. A Limited Edition Blu-ray Trilogy Gift Set will also hit stores which includes a custom T-rex dinosaur statue.
We'll let you know when this title becomes available for pre-order. For now, check out full details on the Jurassic Park Ultimate Trilogy Blu-ray Disc edition.