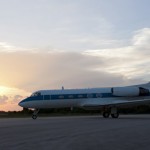 It will be a glorious yet sad day for NASA's Space Shuttle program, as Endeavour's final flight will take place on Friday, at 3:47 p.m. ET. The STS-134 launch will end an era for Endeavour, marking its 25th mission which will take 14 days to complete. HDNet will start coverage, presented in HD, at 3:30 p.m. ET.
Among the crew is Commander Mark Kelly (Capt., U.S. Navy), the husband of Congresswoman Gabrielle Giffords. He will be joined by Pilot Gregory H. Johnson (Ret. Col., U.S. Air Force) and Mission Specialists Michael Fincke (Col., U.S. Air Force), Greg Chamitoff, Andrew Feustel and European Space Agency astronaut Roberto Vittori (Col., Italian Air Force).
During the 14-day mission, the Endeavour crew will deliver the Alpha Magnetic Spectrometer (AMS) — a 7 1/2 ton, two billion dollar module designed to study the formation and physics of the universe. Spare parts will also be delivered including two S-band communications antennas, a high-pressure gas tank and additional spare parts for Dextre.
More info at http://www.nasa.gov/mission_pages/shuttle/main/index.html.