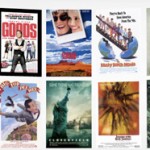 Dish Network, who just won the bid to purchase bankrupt rental service Blockbuster, has acquired online distribution rights to Epix films. Epix, a joint venture between Paramount Pictures, MGM and Lionsgate, distributes such blockbuster films as Iron Man 2, Star Trek, and Shutter Island.
Dish's streaming service is accessible to Epix subscribers at DishOnline.com, or, using their Dish account information at EpixHD.com. The streaming agreement includes over 3,000 titles from Epix, Epix 2 and The 3 from Epix.
"Dish has been among the first to fully embrace the online viewing opportunity through Dish Online, and we are proud to launch EpixHD.com to better serve Dish customers around the country," said Mark Greenberg, president and CEO of Epix.
For Dish subscribers, Epix is included  in the Dish Platinum package along with 22 other premium channels for an additional $10 per month. The Three from EPIX can be ordered a la carte for an additional $7 per month.