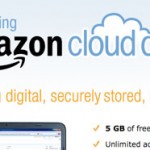 Amazon (the giant online retailer that started with selling just books), has launched its "Cloud Drive" service, giving customers 5GB of storage free with options to expand up to 1TB. The personal online hard drive will let you access files from any computer, including Amazon MP3s (which you can automatically save when you purchase), movies, pictures, and whatever other documents you might want to backup.
Amazon says their Cloud Drive is safe and secure using Amazon Simple Storage Service (S3), the same data storage infrastructure they use to run their own websites. Access to the drive is secured using your username and password via HTTPS.
Storage plans beyond the free 5GB quota start at $20 per year for 20GB up to $1,000 per year for 1 terabyte (1000GB). Check out the full list of expanded storage plans for Amazon's Cloud Drive at Amazon.
Other countries currently offering Cloud Drive include:
Austria
Belgium
Bulgaria
Cyprus
Czech Republic
Denmark
Estonia
Finland
France
Germany
Greece
Hungary
Ireland
Italy
Latvia
Lithuania
Luxembourg
Malta
Netherlands
Poland
Portugal
Romania
Slovakia
Slovenia
Spain
Sweden
United Kingdom