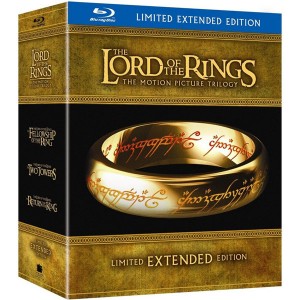 After teasing us with the release of The Lord of the Rings Trilogy on Blu-ray Disc in theatrical form, New Line has announced the Extended Versions as a Blu-ray Box set and has revealed some nice looking box art. The extended editions incorporate over two hours of added footage (123 minutes total) to the theatrical versions, making this trilogy the ultimate weekend medieval marathon. Digital copies of the films will also be included with the box set, however New Line says those versions will be available to download online.
Commentaries, documentaries, featurettes and other content previously released on DVD and with the Blu-ray theatrical versions of the films will also be included in the Extended Box Set. We don't know how many discs there will be yet in the Box Set but we're guessing six – one BD for each film and one for each set of extra content.
New Line still hasn't given an actual street date, but has released a new trailer for the extended editions which boldly says, "Now you can experience the wonder of the Lord of the Rings, the way it was meant to be seen." Then why the double dip New Line?
Here's a link to the extended edition trailer, pre-order pricing and complete details on The Lord of the Rings Extended Trilogy on Blu-ray.