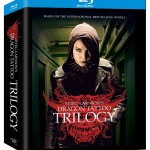 Another Tuesday, another set of Blu-ray Discs hit the shelves. You wanna see a funny movie? Check out "Due Date" with Robert Downey Jr. and Zach Galifianakis. Caught this film on a plane recently and almost busted a gut. The BD comes with deleted scenes, mashups, gag reel, and "Two and a Half Men" sequence.
Could any foreign film be hotter right now than the Stieg Larsson Trilogy? "The Girl with the Dragon Tattoo," "The Girl Who Played with Fire," and "The Girl Who Kicked the Hornet's Nest" are all available as a box set from Music Box Films Home Entertainment. The Swedish films are based on Stieg Larsson's Millennium Trilogy novels.
Now let's go back to 1982, back to early Eddie Murphy work — back to a time when Murphy was still starring on "Saturday Night Live," before the "Beverly Hills Cop" films, and before he made a sneak cameo as a security guard on a "Star Trek: The Next Generation" episode. Murphy starred alongside Nick Nolte as an unlikely pair who track down a killer in search of some hidden cash. Nolte plays police officer Jack Cates who ends up with parolee Reggie Hammond (Murphy) for 48 hours.
Some new films on Blu-ray:
Megamind (Starring Will Ferrell and Brad Pitt)
Memento (Guy Pearce, Joe Pantoliano, Mark Boone Junior, and Russ Fega)
Get Low (Starring Robert Duvall and Bill Murray)
Jeff Beck Rock'n'Roll Party: Honoring Les Paul
Sweet Smell of Success – The Criterion Collection (Starring Burt Lancaster and Tony Curtis)
Weeds: Season Six (Starring Mary-Louise Parker, Elizabeth Perkins, and Kevin Nealon)
48 Hrs. (Starring Nick Nolte and Eddie Murphy)
For a list of all new Blu-ray Disc releases this week click here.