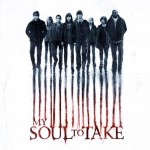 Wes Craven's My Soul to Take is now available to Time Warner Cable customers on demand and in 3D format. The VOD offering comes day-and-date with the 2D Blu-ray and DVD releases Rogue Pictures. The film isn't one of Craven's best, but if you're a fan of horror films and have a 3D setup it's worth checking out.
Similar to Craven's Nightmare on Elm Street series, My Soul to Take follows a serial killer who returns to haunt seven teens born on the same day he died. The film stars Max Thieriot, Nick Lashaway, Nick Lashaway and Denzel Whitaker.
You can find My Soul to Take in the 3D category located on the HD Movies On Demand channel. You can also find the film in high-definition on the HD Movies On Demand channel.