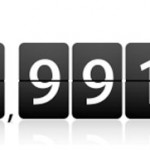 We're watching the download ticker at Apple.com waiting for it to hit 10 billion app downloads. The ticker, for some reason, is completely mesmerizing. We're not sure what's better, the ball drop at Times Square or the app download ticker.
The other exciting thing is the customer who downloads the 10 billionth app will get a $10,000 iTunes Gift Card — now that's a lot of mp3's. You might even be able to afford the whole Beatles collection.
Check it out at apple.com before it runs out! UPDATE: The 10 billionth download was hit around 5:30 am Eastern. Apple will announce the winner soon.