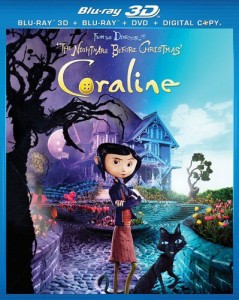 It's a brand new year and Blu-ray is enjoying more saturation into homes than every before. And, as BD players were a popular Christmas gift in December, people will be on the lookout for new releases — and keeping an eye on the Blu-ray bargain shelf. Below we've picked several upcoming titles worth watching on Blu-ray Disc.
Today, Jan. 4th, Dinner for Schmucks has released to Blu-ray Disc. The film stars Steve Carell and Paul Rudd in a comedy released to theaters in summer 2010. Coraline is now available as a Two-Disc Combo with Blu-ray 3D — not the ol' school red and blue glasses version previously released — just be careful purchasing because there are almost ten different Coraline releases (you want the package pictured above). Buffy the Vampire Slayer: Season 8 Motion Comic is also available. If you're a Buffy fan and like animation this a good one. Finally, Ron Howard's Backdraft is now available as an Anniversary Edition, celebrating 2o years after its theatrical release in 1991.
Next week, Jan. 11, comes the 2010 box office hit The Social Network, telling the story of the rise of the popular social website Facebook. And, Kevin Costner's seven-time Oscar winner Dances with Wolves will finally be available on Blu-ray Disc as a 20th Anniversary Edition.
Once Upon a Time in America will also be hitting the shelves Jan. 11 on Blu-ray Disc. The beautiful cinematography and all-star cast of this film makes it a must-watch on high-def Blu-ray. Stars Robert De Niro, James Woods, Elizabeth McGovern, and Joe Pesci.
On Tuesday, Jan. 18 Stone (Starring Robert De Niro, Edward Norton, and Milla Jovovich) will release on Blu-ray Disc. And, Sony Pictures' Justified: The Complete First Season will also release packaged as a single-disc Blu-ray.
On Jan. 25, 2011 last years theatrical release Red starring Bruce Willis and Morgan Freeman will be available as a Special Edition & Single-Disc. On the same day Steven Spielberg's A.I.: Artificial Intelligence will also release to hi-def Blu-ray and stars Jude Law, Haley Joel Osment, Frances O'Connor, and Sam Robards.
But don't let us tell you what to get on Blu-ray! Check out more upcoming titles below or check out all titles by release date on Amazon.com. And, Happy New Year!
Notable Blu-ray Disc releases for January 2011:
Jan. 4, 2011
Dinner for Schmucks
El Mariachi/Desperado (Two-Pack)
Buffy the Vampire Slayer: Season 8 Motion Comic (Blu-ray/DVD Combo)
Once Upon a Time in Mexico
Coraline (Two-Disc Combo: Blu-ray 3D / Blu-ray / DVD / Digital Copy)
Backdraft (Anniversary Edition)
Gone With the Wind
Blade Runner: The Final Cut
Jan. 11, 2011
The Social Network
Dances with Wolves (20th Anniversary Edition)
Piranha
The Universe: 7 Wonders of the Solar System (Blu-ray 3D)
Once Upon a Time in America
Universe: Complete Season 5
Army of Shadows (Criterion Collection)
Raging Bull (30th Anniversary Edition)
Lennon NYC
Jan. 18, 2011
Stone
Takers
Justified: The Complete First Season
Jan. 25, 2011
Red (Special Edition) & Single-Disc
Secretariat (Two-Disc Blu-ray/DVD Combo)
Bambi (Two-Disc Diamond Edition Blu-ray/DVD Combo in Blu-ray Packaging)
The Walking Dead: Season One
A.I.: Artificial Intelligence
Excalibur
Saw 3D: The Final Chapter (Two-Disc Combo: Blu-ray 3D / Blu-ray / DVD / Digital Copy)
Memento (10th Anniversary Edition)
Weeds: Season Six
Thelma & Louise (20th Anniversary)