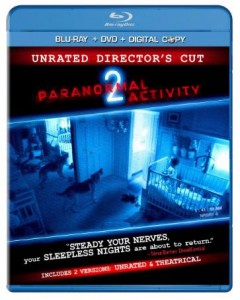 Paramount Home Entertainment has just announced an unrated version of Paranormal Activity 2 with new footage will release in a Blu-ray/DVD Combo Pack and standard DVD on February 8, 2011. Both the theatrical and unrated versions will be included on the discs, as well as a digital copy of the unrated version.
Total run time of the theatrical version is 91 minutes, while the unrated version runs 98 minutes. Other extras included on both Blu-ray Disc and DVD editions include found footage and a teaser trailer.
The Blu-ray Disc is formatted in 1080p resolution with English 5.1 DTS-HD Master Audio.
Paranormal Activity 2 carries an MSRP of $29.99 for the Blu-ray/DVD Combo and $19.99 for the standard-def DVD.
Summary:
The chillingly realistic prequel to 2009's horror phenomenon chronicles the frightening days leading up to the events of the original film, marking the return of Katie, Micah and the terrifying and malevolent presence that's torturing them. When Katie's sister Kristi and her husband find their house vandalized after bringing home their new baby, they set up 24-hour surveillance cameras. What unfolds on the footage is far more sinister and shocking than anything they could have imagined.