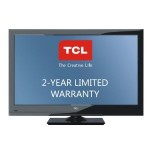 Amazon has already started some pre-Cyber Monday deals online, with lots of choices in the electronics, home theater, and entertainment departments. Some current highlights include a Toshiba 55UX600U 55-Inch 1080p HDTV with Net TV for $1,199.99 (List: $2,399.99), a TCL 32″ 720p HDTV for $399 (List: $549), a Samsung HW-C560S Home Theater System for $248 (List: $399), a VIZIO M220VA 22-inch Full HD 1080i 720p LED LCD HDTV for $228 (List: $349), and a Sylvania NB620SL1 Wireless Enabled Blu-Ray Disc Player for $99 (List: $129). Here's the link
to the pre-Cyber Monday deals on HDTVs and Video.
In electronics find Ultimate Ears MetroFi 170vi Earphones for $24.99 (58% off the list price of $59.99), or a complete blowout on the higher-end BOQARI Q1 Metal Earbuds Headphones for $49 (List: $299). They also have the Toshiba BDX1100 1080p Blu-ray Disc player for $79 (List: $99) and a Cyberpower 1010HT 10-Outlet Surge Suppressor for $37 (List: $69). Here's a link to all the electronics deals offered today.
On Blu-ray Disc find Fringe: The Complete First Season for $27 (List: $69), Terminator Salvation for $10.49 (List: $24.98), Batman Begins (Limited Edition Gift Set) a blowout at $15.49 (List: $49.99), and Clash of the Titans for $12.99 (List: $35.99). Here's a link to all the pre-Cyber Monday deals from Amazon in DVD and Blu-ray.
The supplies are limited, so don't waste any time taking a look. Prices listed here are at time of publication and subject to change.