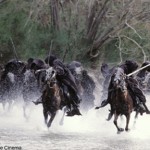 In the ongoing saga about where The Hobbit will be filmed, Warner Bros along with New Line representatives have gone to New Zealand to discuss union troubles and tax incentives with prime minister John Key. Greetings came from a rally of concerned film professionals waving signs with messages such as "New Zealand IS Middle Earth," and "We Love Hobbits."
Executives from the studios are looking for tax breaks from the country if they chose to shoot there as well as clarification on union laws. Several weeks back New Zealand and Australian unions threatened to pull their actors from the film, dragging in unions worldwide including the Screen Actors Guild of the United States.
Producer/Director Peter Jackson at one point called the Australian union which controls New Zealand's Actors Equity union a "bully" — essentially threatening to destroy the heart that is at the core of the Tolkien-based films.
Although the Australian union removed its boycott of the production, the studios involved are still concerned with union backlash that could hijack production. In fact, New Line has been searching for other filming locations if the Zew Zealand deal goes awry. Jackson was even quoted as saying he would move the production somewhere else if necessary, this coming from a New Zealand native.
No decision has been made as of yet to keep the two-part 'Hobbit' films in New Zealand. Mr. Key is said to have given the decision a grim 50-percent chance of approval. However, if Key can find a way to match tax incentives offered by competing countries he may have a better shot than he thinks.
Wherever The Hobbit is to be made is a decision that needs to be made soon, as production is scheduled to begin in Feb. 2011 and the first film slated to hit theaters in December 2012.
Peter Jackson and the The Hobbit producers recently announced the film will also be produced in 3D, a format that has been championed by James Cameron's Avatar but questioned by many who consider the new technology a gimmick rather than the future of screen entertainment.
Sources: The Associated Press, The New York Times