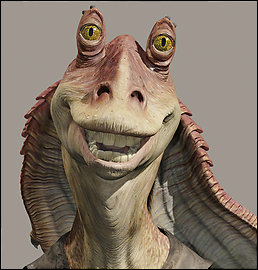 Last month George Lucas confirmed at a convention that the Star Wars saga would release on Blu-ray Disc. Now, the director says Star Wars will be converted to 3D, with Star Wars: Episode 1 The Phantom Menace to be the first shown in 3D theaters in 2012 (possibly mid-February). According to The Hollywood Reporter, the six Star Wars films will be released sequentially every year.
The web has been flooded with comments from fans who are against the 3D conversion. "This is lame, he is going to milk this forever," says one reader of The Hollywood Reporter article. A comment made to an LA Times article simply read, "noooooooooooooooooooo!" And, online publication TheMPPC says that Star Wars has "jumped the shark" by going 3D.
We first wrote about Lucas considering 3D versions of the Star Wars saga back in February of this year. Lucas was rumored to be putting a $10 million price tag on the conversion of each film, which would take about 16 weeks to complete.
Lucas at the time was talking with a San Diego company who supposedly could convert an old film to 3D in about 16 weeks. Now, it appears Lucas' own Industrial Light & Magic will "oversee" the conversion, according the LA Times. 20th Century Fox will, as they always have, distribute the newly converted 3D films.
Star Wars has at times looked like it could be "jumping the shark." From the moment those little Ewoks were taking down Stormtroopers with rocks to the head in the Battle for Endor, to Jar Jar Binks and his unearthly goofiness (Disney's "Goofy" character does come into mind), Lucas has had his share of "sharky" moments.
But, a 3D version on top of an original trilogy that has already had its re-releases and revised scenes does seem over-the-top. A 3D version of Star Wars could be likened to just another sub-product like lunch boxes, underwear, and McDonalds Happy Meal toys rather than great filmmaking.
How do you feel about this news? Is a 3D conversion of Star Wars a sacrilegious act? Or, has Lucas exploited the franchise to the point where it doesn't matter any more?