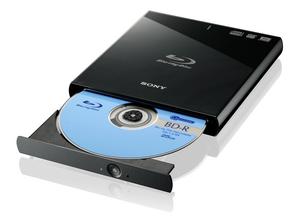 The new slim external Blu-ray rewritable drive from Sony will burn at speeds up to 6x via USB using 6x compatible BD-R media. The BDX-S500U can record up to 50GB of data on BD-Rs or BD-REs, or 220 minutes of high-definition 24M bps MPEG-4 AVC/H.264 video. The drive also features Blu-ray 3D high-definition playback.
The BDX-S500U Blu-ray drive also records on 4.7GB DVD+/-R discs at up to 8X speeds, 8.5 GB DVD+/-R Double/Dual layer at up to 4X, DVD+RW at up to 8X, and DVD-RW at up to 6X.
But is the Blu-ray drive too fast for PCs? PC World proposes that the USB speed must match the 27MBps write speed specified by Blu-ray. And, although USB speeds are rated up to 60MBps, networking, inefficiences in chips, and also other USB devices on the board could slow the USB speed to less than the required 27MBps.
The drive should be available this month and is rumored to be priced between $200 and $240.