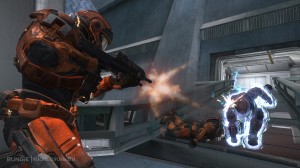 Retailers in the tens of thousands are opening at midnight tonight just to sell Halo: Reach, Microsoft's long anticipated follow up to Halo 3: ODST. Back in May, Microsoft opened beta testing for Halo: Reach for what the company called the biggest multiplayer beta in history logging over 2.7 million users. Access to the 'Reach' beta was provided in copies of Halo: ODST which released in September 2009.
The Bungie/Xbox 360 title is expected to be one of the biggest gaming releases of the year – possibly only rivaled by the upcoming multi-platform Call of Duty: Black Ops. And, as with preceding Halo titles 'Reach' will not release trouble-free. You may have heard about the recent "hack" into the Halo: Reach review copy which modders were able play by removing the access code requirement. However, hacked versions of the game never reached the masses and Microsoft may have actually benefited from the press.
"When it comes to the size and scope of a franchise and especially the dedication of the fans, no game is bigger than 'Halo,'" said Phil Spencer, corporate vice president of Microsoft Game Studios at Microsoft Corp.
Not only a game, Halo has been called a "pop culture phenomenon" by Variety magazine, with comic books, novels, action figures and other products capitalizing on the Halo franchise. A Times Square Best Buy release party will feature hip-hop star Kid Cudi with the event covered by Spike TV in HD quality.
A new Halo game has been three years waiting, and according to Bungie Studios' creative director Marcus Lehto they did not hold back in developing 'Reach' knowing it was their last Halo release. The game increases player "investment" by allowing more customization of their own Spartan. And, according to Lehto both the single player and multiplayer modes were developed to "make sure that 'Reach' is the best of all the 'Halo' games."
The game will be sold in Standard, Limited and Legendary Editions. A bonus token will be given to those who purchase Halo: Reach which unlocks an exclusive in-game Spartan Recon Helmet.
"Halo: Reach tells the tragic and heroic story of Noble Team, a group of Spartans, who through great sacrifice and courage, saved countless lives in the face of impossible odds. The planet Reach is humanity's last line of defense between the encroaching Covenant and their ultimate goal, the destruction of Earth."
Order
Halo: Reach
and get $20 credit towards future video game purchases. (Limited time only.)