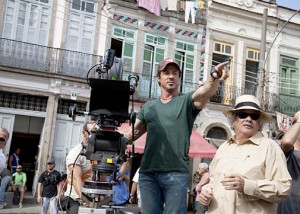 On August 21, Epix will broadcast "Inferno: The Making of The Expendables" — a 90-minute behind-the-scenes documentary about the making of Sylvester Stallone's latest action film. "I want you to see the guys while they are sweaty and hurting; the confusion, the mayhem, the solidarity and perseverance," said Stallone.
The documentary will look at Stallone's filmmaking process, reveal his thoughts about being a long time action hero, and how The Expendables reunites action stars who defined the action movie genre in the 80's and 90's.
"This is in no way your typical behind-the-scenes fare," said EPIX President, Mark Greenberg. "Inferno is an honest, tough look at the process and rigors of filmmaking and Hollywood."
The Expendables stars Bruce Willis, Arnold Schwarzenegger, Jason Statham, Dolph Lundgren, Jet Li, Mickey Rourke, Steve Austin, Randy Couture, Eric Roberts and Sylvester Stallone. The film was directed by Stallone, and screenplay co-written by Stallone and Dave Callaham.
The film will premiere in theaters in the U.S. August 13, 2010.