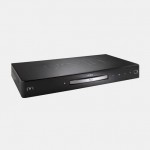 All three of the new Vizio Blu-ray Disc players output 1080p and upscale standard-def DVDs. In line with current technology, the players will stream on-demand HD video, audio and other entertainment from top providers including VUDU, Netflix and Pandora via VIZIO Internet Apps.
The players output up to 7.1 channels of audio and support Dolby TrueHD, Dolby Digital Plus, and DTS HD audio formats. USB ports in each model allow jpg and MP3 playback.
The VBR210 and VBR220 list for $189.99 each but have not started shipping yet (at least from Amazon or the Vizio website). The VBR231, which will go for $199 is expected to ship in July. We'll keep you posted with updates on availability.
Vizio also announced a dual-band 802.11n wireless router (XWR100) that uses both 2.4 GHz and 5 GHz bands and prioritizes high definition video to web-connected HDTVs and Blu-ray players. The router will carry an MSRP of $99.