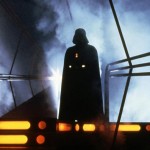 This Saturday, May 22, Spike TV will celebrate 30 years since the release of Star Wars: The Empire Strikes back by airing a three-movie marathon starting at 1:00 p.m. Eastern Time with Episode IV A New Hope. If you haven't caught the original Star Wars films in widescreen HD yet, this is a great time to see them all in sequence.
Empire Strikes Back was released in 1980 and won an Oscar for Best Sound as well as received nominations for Best Art Direction/Set Direction and Best Music/Original Score. The film remains a favorite of Star Wars fans, many of whom consider "Empire" to be one of the greatest sequels of all time.
Spike will broadcast all three of the original Star Wars films on their network channels in both high-def and standard-def from 1:00 p.m. through 10:00 p.m. ET. Re-broadcasts of A New Hope and The Empire Strikes Back will start at 10:00 p.m. and run through 3:30 a.m.
Simultaneous with the television broadcast of The Empire Strikes Back at 4:00 p.m., Spike will also broadcast the film on MTV's giant 44-1/2′ massive HD video screen in Times Square, New York City. The MTV big screen is located at the crossing of Seventh Ave and Broadway between 44th St. and 45th St.
Schedule of Star Wars Marathon on Spike TV:
1:00 – 4:00 PM, ET/PT – Star Wars: Episode IV A New Hope
4:00 – 7:00 PM, ET/PT – Star Wars: Episode V The Empire Strikes Back
7:00 – 10:00 PM, ET/PT – Star Wars: Episode VI Return of the Jedi
Re-broadcasts:
10:00 PM – 1:00 AM, PT/ET – Star Wars: Episode IV A New Hope
1:00 – 3:30 AM, ET/PT – Star Wars: Episode V The Empire Strikes Back