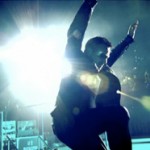 This news came as a pleasant surprise as I was one of the 100,000 attending the concert in the fall of '09 and didn't realize it was being filmed for Blu-ray release. "U2360 At The Rose Bowl" was U2's biggest show yet in the States, selling out the Rose Bowl in Pasadena, CA in support of the group's No Line on The Horizon album.
The hi-def Blu-ray Disc features the full concert, new interviews, and a documentary called Squaring the Circle: Creating U2360. The concert film is directed by Tom Krueger (who worked on U23D, the first live action 3D concert movie from U2's Vertigo Tour) and was filmed using 27 high-definition cameras positioned throughout the stadium.
The Blu-ray release also includes an exclusive BD Live bonus feature, where video footage from the continuing 2010 US and European Tour will be continually updated to your Blu-ray player.
Bonuses on the Blu-Ray Disc include:
Squaring The Circle: Creating U2360° Documentary
U2360° Tour Clips
Bonus Track 'Breathe' (Live At The Rose Bowl)
Berlin Timelapse Video
Videos:
Get On Your Boots
Magnificent
I'll Go Crazy If I Don't Go Crazy Tonight (Animated)
I'll Go Crazy If I Don't Go Crazy Tonight (Live At Barcelona)
The Making Of 'Get On Your Boots' Video
The Making Of 'Magnificent' Video
Other formats to release in the U.S. on June 3 include Single Disc DVD, 2 DVD Super Deluxe Box Set (contents not revealed yet), and Two Disc DVD Deluxe edition.
U2360 was also streamed live to seven continents via YouTube, which was the first live streaming of a full-length concert and received over 10 million views in one week.
[HTML1]