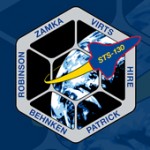 Endeavour's 13-day, STS-130 mission is scheduled for liftoff at 4:39 a.m. on Sunday, Feb. 7. HDNet will start covering the lift off at 4:00 a.m., with a re-broadcast the launch on Sunday, February 7 at 11:00 a.m. ET. This is the last scheduled night time launch for the Space Shuttle Mission. (See remaining launch dates below.)
The mission of Endeavour and her crew will be to deliver the last connecting module to expand the International Space Station – the Italian-built "Tranquility" node. "Tranquility" will provide additional room for many of the station's life support and environmental control systems. "Tranquility" is among four additional modules on the station: the Destiny laboratory, the Quest airlock, the Unity node and the Harmony node.
"Everything thus far is going exceeding well… we're right on schedule where we're supposed to be and we'll continue to work through the day on our preparations," said NASA Test Director Jeff Spaulding
UPDATE: Because of weather the launch was postponed until Monday, Feb. 8 at 4:14 a.m. Eastern Time.
UPDATE: The launch was success on Feb.8. Shuttle launch director Michael Leinbach called the lift-off "one of the smoothest ones ever."
The remaining missions:
STS-130
Launch Target: Feb. 7, 2010
at 4:39 a.m. EST
Shuttle: Endeavour
Duration: 13 days
STS-131
Launch Target: March 18, 2010
at 1:34 p.m. EDT
Shuttle: Discovery
Duration: 13 days
STS-132
Launch Target: May 14, 2010
at 2:28 p.m. EDT
Shuttle: Atlantis
Duration: 11 days
STS-134
Launch Target: July 29, 2010
at 7:51 a.m. EDT
Shuttle: Endeavour
Duration: 10 days
STS-133
Launch Target: Sept. 16, 2010
at 11:57 a.m. EDT
Shuttle: Discovery
Duration: 8 days