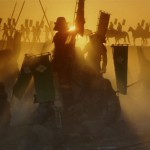 My Blu-ray pick of 2009 is Akira Kurosawa's Kagemusha, a Criterion Collection title that is worthy of the distinction. The 1980 film (partially funded by 20th Century Fox via George Lucas and Francis Ford Coppola) was beautifully restored to hi-def quality, showcasing the highly saturated colors and rich depth Kurosawa films are noted for.
Kagemusha (which means "Shadow Warrior" in Japanese), tells the tale of a lower class thief who is forced to impersonate the warlord Shingen Takeda in order to keep enemy clans from knowing the real Shingen has been assassinated.
This is a film that I watched twice (in one day!) because there was too much to admire in one showing — the cinematography (Takao Saitô), the story (Akira Kurosawa, Masato Ide) and pre-CGI battle scenes (the last of which Kurosawa hired 5,000 extras for). The Blu-ray is presented in 1.85:1 widescreen ratio with DTS-HD Master Audio (Japanese with English subtitles). – Jeff Chabot
My Blu-ray release of the year isn't a very traditional choice. This mainly has to do with the fact that it's animated. Most people seem to enjoy the Blu-ray format better when there are actual living actors showing off their smooth 3D-ish skin around the screen. But Brad Pitt's pores can't compete with the awesome, hilarious chaos of The Venture Brothers: Season 3.
This is the first Blu-ray release for The Venture Brothers. It's also the first uncensored release of the show. There's something about crisp HD animation that really helps an f-bomb bloom as it hits your TV's speakers. The first two seasons of The Venture Brothers only came in two-disc DVD packages. The single Blu-ray disc of The Venture Brothers: Season 3 helped me appreciate the subtle capacity feature of Blu-ray. – Bryan Sharp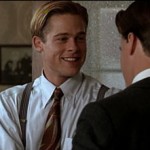 My takes for 2009? These are in no particular order and do not reflect my feelings on the actual movies… they're just short thoughts on the Blu-ray versions as a whole package.
Coraline was an excellent BD effort by Universal… full featured, an excellent transfer and the best 3D to yet come out in Blu-ray (in my opinion).  The features are absolutely terrific throughout.
A River Runs Through It gets major props for a very good transfer of an older title (cleaned up and remastered for HD) and the features are excellent… way above average for an older catalog title (full HD 1080i features, every one of 'em).
The Watchmen BD was very good as far as HD transfers go, but light on features.  However, the disc had a great pop-up commentary with excellent production commentary throughout.  Still, Warners should be releasing a more robust version with Tales of the Black Freighter re-inserted into the film.
I also enjoyed Quantum of Solace which was one of the best BD transfers I've yet scene for a new title.  The features were very good, but not great however.
Lastly, the UP Blu-ray set by Disney (3 disc w/digital transfer) is hard to beat for quality at a good price for a bonus disc set.  Excellent transfer, absolutely beautiful throughout, and with the kind of terrific features we expect from Disney/Pixar. – Christian Hokenson