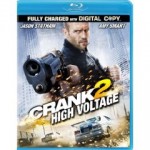 This week's Blu-ray Disc releases include a mix of memorable films from the 80's and 90's, as well as more recent films and a couple duds hard to believe were even transferred to high-def. Agree or disagree?
"Friday" (1995) starring Ice Cube and Chris Tucker got released on Blu-ray Disc this week. "Mrs. Parker don't know" how funny this movie is no matter how many times watched.
"The Quick and the Dead" (1995) with an all-star cast (Sharon Stone, Gene Hackman, Leonardo DiCaprio, Russell Crowe) is a film worth watching in high-definition.
Can't help but love the concept of a film about a postman in a post-apocalyptic world. "The Postman" (1997) directed by and starring Kevin Costner has some flaws but a neat film to watch after seeing it over tens ago, especially in widescreen HD.
"Over the Top" (1987) starring Sylvester Stallone came out sandwiched between Sly classics "Cobra" (1986) and "Rambo III" and if you can't recall tells the story of trucker Lincoln Hawk (wish I had that name) who must win an arm wrestling contest to win back his son's affection.
"Sphere" (1998) has got to be one of the worst film adaptions of a half-way decent book (Michael Crichton) that is hard to imagine sitting through even in 1080p.
For the thriller/horror genre we've got Robert Englund in "Freddy vs. Jason" (2003) and 50's E.C. Comics inspired "Creepshow" (1982).
"Requiem for a Dream" (2000) stars Ellen Burstyn, Jennifer Connelly and Jared Leto. Directed by Darren Aronofsky ("Pi," "The Fountain," "The Wrestler"), the film was nominated for one Oscar (Best Actress).
If you just want to watch a hottie run around in black spandex, "Catwoman" (2004) is your pick this week however don't expect anything better than "Elektra" (2005).
Dry-as-a-bone, but funny as hell TV show "The Office" released its fifth season on Blu-ray this week. Newer television series "Fringe" ('08-'09) has released its first season on hi-def disc.
Maybe the most suggested BD release this week is "Crank 2: High Voltage" (2009) with Jason Statham. This is a high-speed action film that is guaranteed to get your home theater rumbling.
Here's the full list of Blu-ray Disc releases for Sept. 8, 2009:
Catwoman (Warner)
Crank: High Voltage (Lionsgate)
Creepshow (Warner)
Dance Flick (Paramount)
Dead Calm (Warner)
Equator: Reef of Riches (Razor Digital)
Freddy vs. Jason (New Line)
Friday (New Line)
Fringe: The Complete First Season (Warner)
Heroes of World Class (Big Vision)
Menace II Society (New Line)
Over The Top (Warner)
Rainier: The Mountain (Topics)
Requiem For A Dream (Lionsgate)
Set It Off (New Line)
Silverado (Sony)
Sleep Dealer (Maya)
Sphere (Warner)
The New World (New Line)
The New World (New Line)
The Office: Season Five (Universal)
The Postman (Warner)
The Quick And The Dead (Sony)
Valentino: The Last Emperor (Phase 4)
Wild Asia: Island Magic (Razor Digital)
Here is a link to this week's Blu-ray releases
available at Amazon.com.