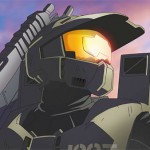 Microsoft has teamed up with a number of animation partners including Japanese studio Toei Animation (see anime interpretation on right) to create a series of short films based on the "Halo" franchise. Other studios involved in creating the films include Bones Inc., Casio Entertainment Inc., Production I.G, and STUDIO4 Degrees C.
The "Halo Legends" stories will explore the "Halo" universe, a place set hundreds of years in the future which chronicles battles with alien invaders known as the Covenant . The game's hero, Master Chief, discovers the aliens are setting up "Halos" across the universe which could eventually lead to its elimination.
"Halo Legends" will officially be presented today at Comic-Con San Diego. Microsoft's 343 Industries (who published "Halo"), will produce the series with creative direction from Shinji Aramaki (Appleseed") and Mamoru Oshii ("Ghost in the Shell").
"The opportunity to work with talents such as Shinji Aramaki, Mamoru Oshii and others from some of the greatest anime studios is a very rare opportunity for Microsoft," said Frank O'Connor creative director for 343 Industries.
No doubt the anime series will be produced in high-definition. A preview of select "Halo Legends" episodes will make their first appearance on Xbox LIVE this Fall, through a new "Halo" focused portal called Halo Waypoint.
Microsft says Warner Home Video will distribute the episodes as a collection, with no other schedules or details revealed.