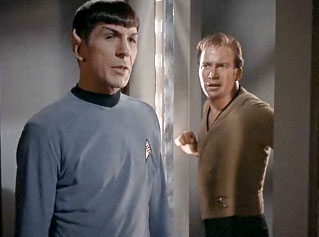 More 'Star Trek' titles on the horizon as Paramount announced it will release "Star Trek: The Original Series Season 2" on a seven-disc Blu-ray set, as well as individual Blu-ray releases of the original motion pictures. Both Blu-ray products will hit stores on Sept. 22.
The Blu-ray release of Season 2 of the original series will contain all 26 episodes including one of the more well known titles "The Trouble with Tribbles" (1967). The beautifully remastered episodes (if Season 2 is anything like Season 1) will be presented in 1080p at 4:3 format, with audio options of DTS-HD Master 7.1 and Dolby Digital 2.0 Mono.
A feature of "Star Trek: The Original Series Season 2" on Blu-ray will allow you to seamlessly toggle between the digitally enhanced and original broadcast versions of the series.
The seven-disc set will contain hours of interactive bonus features, featurettes, and clips via BD-Live. iPhone users will have additional toys to play with as they will be able to use their iPhones as remote controls (a feature branded 'Mobile Blu') to download Star Trek content. The disc set will be released on Sept. 22.
Jump 13 years to the motion picture releases starting in 1980 which featured the original 'Star Trek' cast. The "Star Trek: Original Motion Picture Collection
" was released back in May '09 on Blu-ray and contained all six of the original 'Star Trek' films. Now the films will be available individually, when they also hit the streets on Sept. 22.
Those films headed for Blu-ray Disc as individual titles include:
'Star Trek: The Motion Picture'
'Star Trek II: The Wrath of Khan'
'Star Trek III: The Search for Spock'
'Star Trek IV: The Voyage Home'
'Star Trek V: The Final Frontier'
'Star Trek VI: The Undiscovered Country'
UPDATE: Now available at Amazon.com.