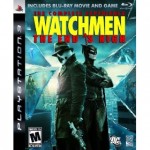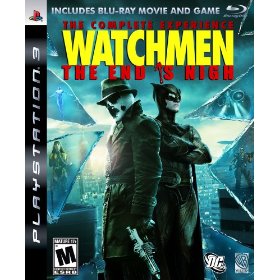 "Watchmen: The End is Nigh The Complete Experience" for Playstation 3 was released today. The hybrid PS3 game and Director's cut version of the film comes as a Blu-ray two-disc set that retails for $49.99 (Amazon currently has it for $46.99).
The gaming disc includes both Part 1 & 2 of "Watchmen: The End is Nigh," developed by Warner Bros. Interactive. Options include single player as well as local split-screen coop mode. You can play as either Rorschach (a feral, streetwise fighter) or Nite Owl (a high-tech martial arts expert).
The movie portion of the two-disc set, released as the Director's cut, features an additional 25 minutes of unseen footage. The disc set also includes a collectible poster and History of Watchmen Timeline.
"Watchmen: The End is Nigh – Part 1 & 2"
has also been released today for Xbox 360. The Xbox game also includes both episodes 1 & 2 and retails for $29.99.
In the near future, "Watchmen: The End is Nigh Part 2" will be available for download on PC July 29 and PlayStation Network on July 30 for $14.99. On August 26, you'll be able to download it on Xbox LIVE Arcade for 1200 Microsoft Points.