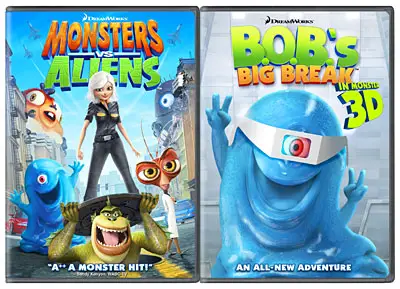 "Monsters Vs. Aliens" was announced yesterday for Blu-ray and DVD, however no specifics were given in the press release. Now Paramount Home Entertainment and DreamWorks Animation have revealed more, although you'll be surprised to hear the discs will not include a 3D version of the film.
Apparently the 3D theatrical version of the film used technology not quite ready for the home theater. The technology, "InTru 3-D," was developed by DreamWorks and Intel specifically for the film and uses polarized glasses rather than traditional colored lenses.
DreamWorks Animation chief Ann Daly said (as reported by Home Media Magazine), "It's a completely different process, and when we started to look at how it would look in the home, we were not satisfied."
Daly also mentioned that once there is a standard developed for 3D on Blu-ray Disc, they would be looking to release "Monsters Vs. Aliens" in 3D for the home consumer.
Still though, you can get a taste of 3D on both the Blu-ray and DVD releases which will include the short film "B.O.B.'s Big Break" both in 3D & 2D. The discs will come with 4 sets of 3D glasses and hit the streets Sept. 29.
Here are the Blu-ray specs for "Monsters Vs. Aliens"
Blu-ray Disc:
• Resolution:  1080p high definition
• Sound: 5.1 Dolby True HD
• Subtitles: English, English SDH+, French and Spanish
Extras:
• B.O.B.'S BIG BREAK in Monster 3D & 2D
• Paddle Ball Game in Monster 3D
• Modern Monster Movie Making
• Three Never-Before-Seen Deleted Scenes
—  Monger's Plan
—  War Room Turns on Monsters
—  If You Don't Know
• DWA Music Video Juke Box
• Filmmaker Commentary
• The Tech of MONSTERS VS. ALIENS
• Top Secret Sneak Peek Files
—  How To Train Your Dragon (HD)
—  Shrek The Musical (HD)
—  Kung Fu Panda World (HD)
—  The Penguins of Madagascar (HD)
—  Shrek The Halls (HD)
—  Secrets of the Furious Five
—  MONSTERS VS. ALIENS Activision Game trailer
• Karaoke Music Party with:
—  "More Than A Woman" with B.O.B.
—  "Born To Be Wild" with Dr. Cockroach & Missing Link
—  "I Will Survive" with Ginormica
• Exclusive Blu-ray Extras
—  Animators' Corner – Picture-In-Picture