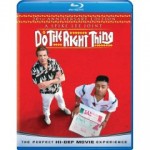 Today's Blu-ray releases include a few "must-haves" for your high-def collection. Spike Lee's Do the Right Thing is now available on Blu-ray and coincidentally had its theatrical release on June 30, back in 1989. Do the Right Thing stars Spike Lee, Danny Aiello, and John Turturro in one of Lee's signature films which was nominated for two Academy Awards.
How the Earth Was Made is a History Channel program which chronicles the Earth's cataclysmic transformations throughout history. From being covered in water and ice, to being bombarded by meteorites, Peter Chin takes you through Earth's fantastic journey. The Blu-ray Disc is presented in 1.33:1 aspect ratio and runs 94-minutes.
Today's Blu-ray releases also have no shortage of arts, music and dance related titles. You can check out Ted Nugent: Motor City Mayhem – 6,000th Concert or John Mayall & The Bluesbreakers and Friends: 70th Birthday Concert. For arts, Moretti: Caravaggio presents 93-minutes of modern ballet in hi-def, while composer Tan Dun presents an opera portraying Venetian explorer Marco Polo in Tan Dun: Marco Polo – An Opera Within an Opera.
Check out the list of today's releases below and visit Amazon.com
for pricing.
12 Rounds
Do the Right Thing
Jonas Brothers: The 3-D Concert Experience
Barbra Streisand: Live in Concert 2006
Street Fighter: The Legend of Chun-Li
Ted Nugent: Motor City Mayhem – 6,000th Concert
Two Lovers
Tokyo!
John Mayall & The Bluesbreakers and Friends: 70th Birthday Concert
Flawless
How the Earth Was Made
Wagner: Die Walkure
Seven (Listed as being released but out-of-stock)
Moretti: Caravaggio
Transmorphers: Fall of Man
Strauss: Ariadne auf Naxos
Chopin: La Dame aux Camelias
Tan Dun: Marco Polo – An Opera Within an Opera
Lady MacBeth of Mtsensk
Black Christmas