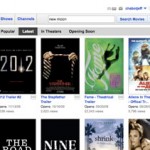 You may be asking yourself "What took so long?" but YouTube has finally launched a movie trailers page. Video resolution is defaulted to YouTube's "Normal Quality" but you can click on the "HD" icon in the player to get a higher resolution and larger preview.
Some popular movie trailers include "2012", "Harry Potter & the Half Blood Prince" and the Twilight sequel "New Moon."
You should also check out YouTube's new movies page where they provide full-length low budget, cult, and independent films. A couple titles that have been wasting my time include "The Hunt For Gollum" (Independent Online Cinema), and Ursula Andress in "Slave of the Cannibal God" (although I'm not by any means suggesting you watch this one).
A few full-length movies you may have heard of in the mainstream include "Super Size Me", "The Karate Kid II" and "Buena Vista Social Club."