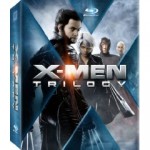 There are lots of Blu-ray releases this week so how do you sort out which ones to consider buying? Well if you are paying over $20 for a Blu-ray Disc you may consider award winners and nominees, classics, and films that are guaranteed to look great in HD. Here's a few suggestions:
The "X-Men" series films were all released on Blu-ray Disc today. The three films from 20th Century Fox and Marvel are available as either single units for $23.99 each or as a value priced "Trilogy" set currently selling for $55.99 on Amazon (Each disc averages about $18.50). Look for "X-Men Origins: Wolverine" coming to theaters in the U.S. on May 1.
Academy Award nominee "The Wrestler" was released on Blu-ray today. Both Mickey Rourke and Marisa Tomei were nominated for Oscars this year for their excellent performances in the film which centers on the life of retired pro wrestler Randy "The Ram" Robinson.
It's another Blu-ray week for Frank Miller as "Sin City" is released in hi-def. If you liked "The Spirit" you'll like this one even more. The 2005 film reveals a stronger narrative than "The Spirit" and much better casting effort. Stars Bruce Willis, Mickey Rourke, Benicio Del Toro, Rosario Dawson, and Jessica Alba.
"Frost/Nixon"
— a film nominated for 5 Oscars including Best Picture was released on Blu-ray today. The film stars Frank Langella, Michael Sheen, and Kevin Bacon and interprets the post-Watergate TV interviews between host David Frost and former president Richard Nixon.
If you like war films, you may want to check out "Genghis Khan: To the Ends of the Earth & Sea – Special Edition" which was released as a Special Edition Blu-ray Disc today. The 136-minute film chronicles the rise of Temujin who later becomes Genghis Khan — ruthless leader of the Mongols. Extras include a Filming Journal, Uncut Battle Scenes, and Behind the Scenes footage.
Check out the total list of Blu-ray releases
for today on Amazon.com.
[HTML1]