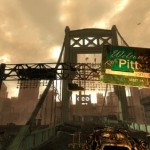 Today was the big release of Fallout 3's second expansion, 'The Pitt'. However, after just a few short hours this highly anticipated DLC is being taken off of Xbox Live due to widespread reports of file corruption.
Bethesda, developers of Fallout 3, have posted this response:
"We are continuing to look into the issues people are experiencing with The Pitt for Xbox 360. As of now it looks like the file for the English version on Xbox Live was somehow corrupted. We are currently working with Microsoft to remove the existing file off of Live to prevent any further downloads. Our plan is to replace it with a new file as soon as possible. We hope to have another update for you shortly."
We will follow this story and report any further updates as they become available.