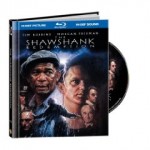 Among some other great releases my Blu-ray pic of the week is The Shawshank Redemption from 1994. This is the movie's first release in high-definition and Dolby TruHD. It comes packaged with a 32-page booklet and contains all the extras previously released on the Special Edition standard-def DVD.
The extra content (unfortunately in standard-def) includes a commentary by Writer/Director Frank Darabont, and two documentaries titled "Hope Springs Eternal: A Look Back at the Shawshank Redemption" and "Shawshank: The Redeeming Feature."
There is The Charlie Rose Show segment featuring Frank Darabont, Tim Robbins and Morgan Freeman, and a hi-def presentation of the film's original theatrical trailer. The disc also contains a comic spoof of The Shawshank Redemption, film stills and galleries.
The Blu-ray specs include 1080p resolution and VC-1 encoding, with an aspect ratio of 1.85:1 (note Amazon has it listed as 1.33:1). The audio is a definite improvement from earlier DVDs with Dolby TrueHD 5.1 surround at 48kHz/16-bit.
The Shawshank Redemption is what many call a perfect movie. With an ending that is unforgettable and an all-star cast, The Shawshank Redemption does not rely on any gimmicks or special effects to make it work. A great story, director and cast are all the ingredients this film needed to be a classic.