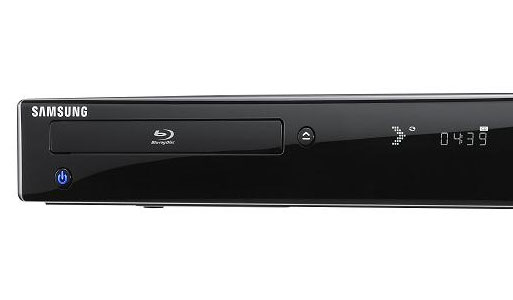 Has it been 5 generations already? Samsung announced its fifth generation Blu-ray player today. The BD-P2500 boasts total BD profile compatibility, including BD Live, Bonus View (Profile 1.1), and Profile 1.0 interactivity features. It also features Hollywood Quality Video (HQV) processing, and has 7.1 channel analog audio output.
For video the BD-P2500 plays back 1080p and features the HQV processing chip. The player upconverts standard DVDs (to 720p, 1080i, or 1080p) and can display JPEG images. For output it uses HDMI 1.3 with xvYCC Deep Color support and the 24fps (Frames per second) film mode. Component output is also included.
For audio the BD-P2500 player can output Dolby Digital, Dolby Digital Plus, Dolby TrueHD and dts as an uncompressed PCM signal, as a bitstream, or via the 7.1 channel analog outputs. And, according to Samsung, dts-HD HR (High Resolution) will be available via a firm upgrade in the fall, which may be available upon release.
It comes with 1GB of internal flash memory for BD Live, ethernet and USB ports, and optical digital audio output.
Bet your waiting for the price right? The MSRP is set at $499. The new BD player will be available in October 2008.