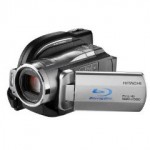 Hitachi Home Electronics has announced a new HD hybrid camcorder (DZ-BD10HA) that functions in three formats and improves upon Blu-ray Disc recording capabilities from last year's DZ-BD7HA hybrid camcorder. The new DZ-BD10HA has also improved upon power consumption and noise in the 8cm BD/DVD drive.
The three format hybrid camcorder is able to record HD video onto Blu-ray Disc, hard drive, or SDHC (Secure Digital High Capacity) card. It allows recording up to 4 hours and 20 minutes of 1920×1080 resolution video, or 8 hours 40 minutes of 1440×1080 onto the built-in 30GB hard drive.
The DZ-BD10HA HD camcorder features a 7 mega pixel CMOS image sensor to capture video and stills at FullHD (1920 x 1080) resolution. It also has a built-in dubbing function that allows full HD content to be transfered to the BD drive from the SDHC or hard-drive. That makes it easy to burn some Blu-ray Discs while you go to bed.
Some additional built-in editing functions will also make it easier not to have to transfer content to a PC or Mac for editing such as split, splice, delete, merge, and transitions.
One more feature to mention is face detection which we have seen in other new camcorders and still cameras. This technology detects faces in your frame and and focuses automatically on them to produce higher quality images.
The Hitachi DZ-BD10HA with 30GB hard drive will be available in September and will retail for $999 (Update – the retail price will actually be $1099 per Hitachi rep.) The camcorder is already available in Japan.