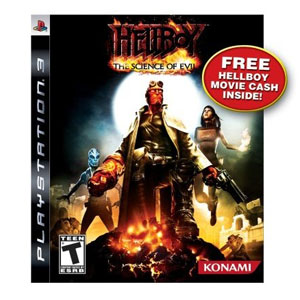 Reports are that Hellboy: The Science of Evil is now shipping for Xbox 360, Playstation 3 and Sony PSP. The in-stock date noted on Amazon is June 27, just a couple days away. The release comes just a couple weeks short of the release of the new Hellboy movie Hellboy II: The Golden Army set for theatrical release on July 11.
The game features an original story set in the Hellboy Universe with creative direction from creator Mike Mignola. In this episode Hellboy uncovers a Nazi plot to dominate the world and must stop the evil Hermann Von Klempt from wreaking havoc upon humanity. The game features voice-overs from Ron Perlman, Selma Blair, and Doug Jones.
Hellboy: The Science of Evil for Xbox and PS3 is priced at $59.99 on Amazon.com. The PSP version is priced at $29.99.