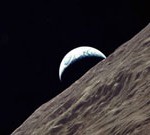 "In The Shadow Of The Moon" will premiere in high-definition (HD) on the Discovery Channel tonight at 9 pm ET.
Although previous scheduling and the Discovery Channel website has the premiere of "In The Shadow Of The Moon" scheduled for Sunday, June 29, ads running last night during "When We Left Earth: The NASA Missions" state the movie will premiere tonight at 9 p.m. ET/PT.
"In the Shadow of the Moon" is told by the surviving crew members from every Apollo mission. The documentary, an award winner at the Sundance Film Festival, combines the interviews with stunning historical NASA footage all in HD.
Check your guide listings to be sure of time. My Verizon FiOS has it scheduled for both 7 pm and 10 pm PT, rather than the 9 pm ET noted in the advertisements.