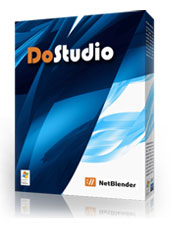 Netblender released a new Blu-ray Disc authoring tool called "DoStudio". Formerly called "DVD One", the software enables users to easily learn how to create high-definition Blu-ray discs through its graphic user interface.
"We believe DoStudio Authoring Edition is the ideal tool for DVD authors who are making the transition to Blu-ray disc," said John Harrington, NetBlender CEO. "Rather than simply map a tool to the BD spec, DSA maps the DVD authoring workflow to Blu-ray disc creation. Blu-ray professionals will be amazed by how quickly they can author a disc in DoStudio."
In addition, picture-in-picture support will be added in July 2008, and BD-Live templates are expected to be released in early 2009.
A retail price was not available, however you can download a free trial version of the software on the company's web page.