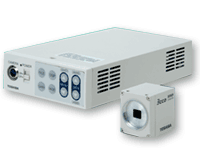 Well, the camera head at least seems to be the smallest. Toshiba announced today it will be showing the IK-HD1 3CCD HDTV Camera at the National Association of Broadcasters (NAB) in Las Vegas this month. The tiny hi def camera head only weighs 2.3 oz. and measures 1.6 inches.
The resolution of the Toshiba cam is 1920 x 1080 at 30 fps. It uses a 3CCD (charge-coupled device) using Toshiba's prism block technology. Outputs that come standard are HD-SDI (SMPTE 292M), analog RGB, or Y/Pb/Pr.
For tight studio shots, reality television or hi def surveillance this tiny monster will be a perfect solution. Toshiba, its great to see your doing hi def stuff post HD DVD.