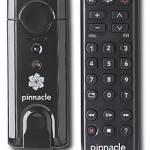 You don't need no stinkin' HDTV…just a USB stick.
Tech guy Gary Krakow of MSNBC recently wrote a review of the Pinnacle PCTV HD Pro Stick, a $129 device that contains an HDTV video and audio card. The stick plugs into your computer and receives over-the-air HD signals. There are no subscriptions to satellite or cable services required because HD signals are broadcast over-the-air as digital television, or DTV.
The Pinnacle PCTV HD Pro Stick works with Windows XP and Windows Vista computers. There is a non-HD model (PC TV) that sells for $99. If you work on Apple computers, a Mac HD stick has just been released that also sells for $129.
There is not much installation involved. You simply attach a portable, telescoping antenna to a metal surface, and plug the device into your USB port. Then, using the supplied Pinnacle Media Center software you can tune the channels. The software also digitally records programming onto a DVD, iPod, PSP or other portable media devices. A remote control is also included for those of you who can't get off the couch to change the channel on your laptop. Does that make sense?
The Pinnacle HD Pro Stick also acts as a video input card, allowing you to capture any analog source material via a supplied S-video A/V adapter. I'm not sure where they were going with this but if you want to go "back in time" to analog, you have the option.
DTV signals that are captured over-the-air are clear and sharp. There is no snow or ghosting of images as there was in the old days of antenna reception. Krakow says, "From my New York City test lab the PCTV HDTV Pro Stick was able to find and receive more than 20 over-the-air HDTV stations. That's a lot better than the tuner in my two-year old Samsung direct-view TV can find at any given time."
The PCTV HD stick is available at major retailers like Best Buy and Circuit City, as well as other electronic retailers and online stores.