Black Snake Moan

(Paramount)
Featuring: Samuel L. Jackson, Christina "Exploit Me" Ricci, Justin Timberlake and Kim Richards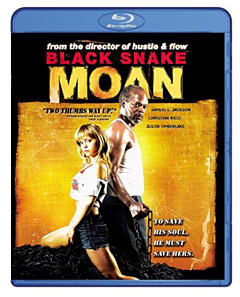 This lurid title, redolent of the old miscegenation fallacies of the old American South is actually a morality tale whose title is taken from a blues song written in 1927 by Blind Lemon Jefferson. Other than that, this tale of a sex-addicted young woman named Rae (Ricci, in an shockingly immersive performance) and the religious ol' bluesman who helps her find herself and overcome her mean demons, is a familiar yet off-beat redemption story told with originality and dramatic heft by the seasoned performers. Director Craig Brewer, of Hustle & Flow fame, continues to fuse his Southern Gothic influenced storytelling sensibilities with gritty, contemporary plotting to come up with engrossing stories that often had me rooting for folks that normally I wouldn't give an iota of care about.
Brewer has a sure hand with actors (including a very good, believe it-or-not, performance from Justin Timberlake) and his deft integration of musical elements (first the hip-hop of Hustle & Flow and now the bluesy roots music of the deep South in Black Snake Moan) proves he's a major cinematic talent to watch… a storyteller whose sense of classic narrative rhythms and taste for the more lurid aspects of Southern life show flair without flash, and keeps you interested in his characters right to the end. (Off the cuff: this film had one of the BEST billboard advertising campaigns… ever! The kind that causes car accidents as rubberneckers try to get a handle on what they saw.)
The image on the Blu-ray release looks hot enough to cause the plasma on your HD set to bubble and burst. We get a widescreen 2.35 theatrical ratio transferred via 1080p AVC compression and it looks absolutely fantastic. You would think from the ad campaign that you might get a grindhouse-style look for this film, but it's actually a rather beautiful looking picture with nary a blemish to be found.
The audio, on the other hand, is a little lackluster considering the excellent image transfer. We're offered a (very) standard Dolby Digital 5.1 surround mix (in English and French… subtitles are in English/French/Spanish). No True HD or PCM lossless for this release and that's just not understandable since the movie is heavy on music to enhance the drama. However, the special features are adequate for a film that performed well in its initial first few weeks of release but then faded from view. There's actually high-def bonus content here! Included on the disc are:
Alternate Scenes – Deleted Scenes

(HD)

Audio Commentaries – Craig Brewer – Director/Writer
Behind the Scenes –

"Conflicted: The Making of BLACK SNAKE MOAN"

Featurettes:

1.

"Rooted in the Blues"

2.

"The Black Snake Moan"
The featurettes give some excellent background on Brewer's inspirations and the issues he faced in making and marketing the film. Worth viewing, especially to see the lengths to which both Ricci and Jackson went through to make their performances physically and emotionally believable. Wow!