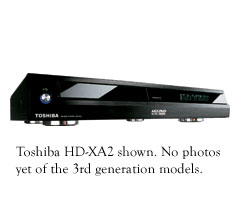 The third generation HD DVD players from Toshiba are coming your way. There will be yet another 3-tier set of players to dangle in front of hi def enthusiasts. And these players have each dropped $100 from the last set.
According to Erik Gruenwedel of Home Media Magazine, the new HD DVD players will be on their way to stores this September. The new models include the 720p HD-A3 at $299.99, 1080i HD-A30 at $399.99 and 1080p HD-A35 at $499.99.
This is a move that Toshiba expects will put more players in homes. Toshiba has been leading in the price war, having been able to stay ahead of the higher priced, yet more data capable Blu-ray disc.
But while the HD DVD player is supported by Universal, Warner Home Video and Paramount Home Entertainment, that leaves consumers with no option to watch movies produced by Sony and Disney. They will still need to buy a $500 Blu-ray Disc player in order to watch Sony's "Pirates of the Carribean".