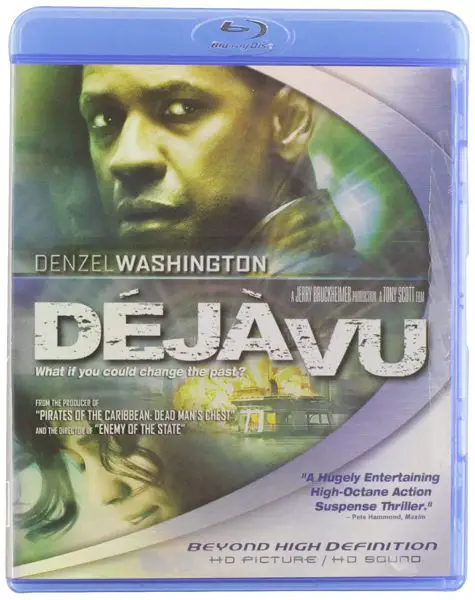 Title: Deja Vu (2006)
Format: Blu-ray Disc
Dist: Buena Vista
Release Date: April 24, 2007
Featuring: Denzel Washington, Bruce Greenwood, Erika Alexander, Val Kilmer and Jim Caviezel
Denzel stars as ATF agent Doug Carlin who is called in to investigate and recover evidence in a ferry bombing and uncovers a terrorism plot through the use of a futurist device developed by the FBI. The device allows the user to view any event, anywhere, but only four days and six hours into the past.
Though the plot's a bit absurd, and not well executed (as science fiction, it's lame, as an annoying action film, it works), Denzel is in top form in his third outing with director Tony Scott. The transfer is a sharp looking MPEG-4 AVC at 1080p resolution in widescreen 2.35. The audio is offered in an rich sounding uncompressed PCM 5.1 format (English) and in Dolby Digital 5.1 (English/French/Spanish). Subtitles are in
English, French and Spanish. This is a feature-rich Blu-ray release with Surveillance Window, a feature that allows you to "go back in time" and experience behind-the-scenes moments with the filmmakers as the film goes along… in a seamless pop up window you can view scenes and experience making-of items such as:
• The Ferry Explosion
• Developing The Character of Doug Carlin
• Makeup, Wardrobe and Special Effects
• The Surveillance Window
• Cameras Of Deja Vu
• Split-Time Car Chase
• Filming In New Orleans
• First Team: Denzel, Tony & Jerry
• Stunts: Compound
• Stunts: Ferry
There's a whole mess of deleted and extended scenes with commentary by Director Tony Scott and producer Jerry Bruckheimer. The deleted scenes are listed as:
• Church Choir
• Turtle Story
• Carlin Studies Claire
• Beth And Abbey See Claire
• Beth And Abbey Live
The extended scenes include:
• Extended Ferry Aftermath
• Claire Held Captive
• Carlin Shares With Claire
On the whole, this is a good addition your hi-def action film library. It has much in common with Scott's recent films (with and without Denzel) and aside from a rather shake plot and shakier SF plot devices, the film is a fairly good actioneer with sound that rocks the living room to its foundations.