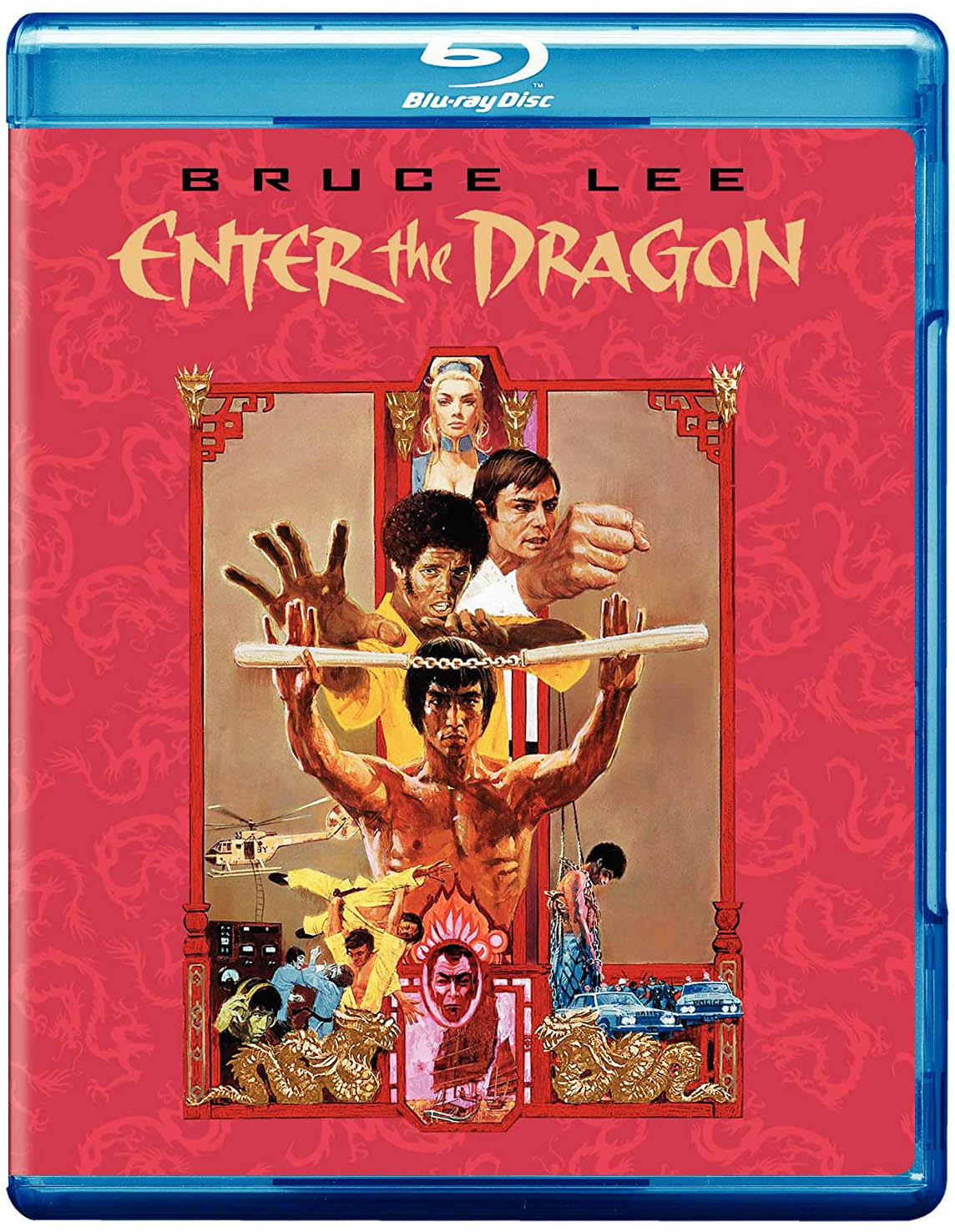 Enter the Dragon [Blu-ray Disc]
From: Warner Home Video
Featuring: Bruce Lee, John Saxon, Kien Shih, and Ahna Capri
Some films simply move beyond classic status, beyond the mere masterpiece of any one director to transcend the cinema itself… Rebel Without A Cause comes to mind, as does Star Wars, two films very different in subject matter and approach that have achieved legendary status and rank as two of the most influential movies ever made.
One showcased a method of edgy, psychological acting that continues to reverberate in the contemporary performances captured on film as well as in the attitudes and posturing of millions who don't feel understood by society, while the other stands as a hallmark of special effects wizardry that changed the face of filmmaking technology forever and, in its more whimsical moments, even created a growing legion of Jedi faithful who view the film less as a movie adventure than a cultural movement with life-changing religious and philosophical connotations.
Bruce Lee's Enter The Dragon (directed by Robert Clouse) ranks in that legendary realm where cinema, reality and myth combine, over time, to mystify those who may view the actual quality of the film, as a whole, with a more critical eye. For millions of folks (I kid you not) this martial arts masterpiece was a life-changing event that altered the course of their physical or mental being…
Suddenly, kung-fu (and Lee's specialty, Jeet Kune Do) were all the rage and a wave of Hong Kong "choppy socky" films proliferated through the drive-ins and grind-houses of America (and internationally as well). The plot is simply and pretty much superfluous… simply a way to stage great tournament fight sequences and other fight scenes that are anything but generic in the way they combine grace with the short, sharp shock of a precision violence.
Three international kung-fu experts (Lee, character actor and martial artist John Saxon, and Jim Kelly) travel to the remote island of criminal mastermind Han (Kien Shih, in a memorable and oft-imitated/parodied performance) for a martial arts tournament. Lee is there on the sly, recruited by a Western intelligence outfit to infiltrate the island and Han's evil schemes (which include his role as head pimp), he is able to use his kung-fu skills as cover to find out what he can, but also to retaliate against Han directly when he discovers Han's students murdered Lee's sister and defiled his Shaolin temple. The film is ultimately a delivery device for Bruce Lee's extraordinary martial arts mastery and his athletic abilities. Lee the actor comes across admirably as well, and this is the film that would have launched Lee as a major star in future Hollywood films had it not been for his mysterious death soon after Enter The Dragon's release. Lee's tragic death only deepens the spiritual awe through which some folks view this film and treasure it as a one-of-a-kind classic of its genre and cinema in general.
With the Special Edition standard DVD, Warner Bros. outdid themselves with tons of classy extras and a wonderful transfer for the standard-def format. The Blu-ray disc mimics that prior effort and offers a very nice transfer, as good if not better than the earlier HD DVD and standard DVD releases. The film is decades old, and the newest hi-def technology shows the flaws of the master, but barring that, the look is nice, crisp and vibrant as a 70's Hong Kong import can be. Video resolution is 1080p with an aspect ratio of 2.40 widescreen. Audio is a sort of clunky and that's simply an aspect of the source material. It's as good as it's going to sound in a Dolby Digital 5.1 surround mix (English… French is in DD-mono and Spanish is DD-stereo with subtitles in English, French and Spanish).
Aside from the awesomeness of the film itself, there's a really good treasure trove of features here… Thank you, Warners! There's a vintage featurette: Location: Hong Kong with Enter the Dragon an interview gallery featuring Bruce Lee's widow, Linda Lee Cadwell and a short segment called Backyard Workout with Bruce: Vintage Home Movies and there's the wonderfully retrograde theatrical trailers & TV spots (perfect for those wanting a better understanding of Tarantino's love affair with the so-called grindhouse style), but wait, ahem! there's more… Warner's offers an enriching and engrossing 4-part documentary that includes the 30-minute long Blood and Steel: The Making of Enter the Dragon which offers plenty of behind-the-scenes footage, a nearly 100-minute long 2003 doc entitled Bruce Lee: A Warrior's Journey. Directed by John Little it covers, in detail, aspects of Lee's life before and after Enter The Dragon (it's divided into chapters: The Beginning, The Journey, The Struggle, The Game of Death and The Footage, and offers a glimpse at Lee's last film in-production ("Game of Death" which became a disappointing posthumous release). George Takei narrates 87-minutes worth of speculation on the mystical nature of Bruce Lee's life and the mysterious causes of his death (as well his son, Brandon Lee's, untimely demise on the set of The Crow) called Bruce Lee: The Curse of the Dragon. Last but not least there's Bruce Lee: In His Own Words a poignant series of old interviews and footage of Lee, the master, discussing the martial and filmmaking arts. This disc is a must-have on any video collector's shelf, and a nice addition to the growing (and growing and growing) Blu-ray library.