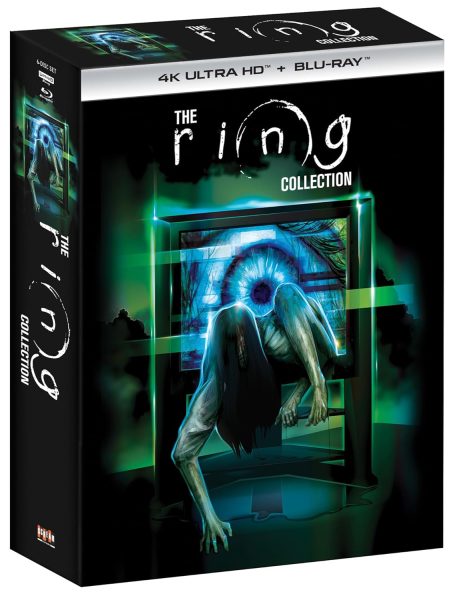 The Ring franchise films (American releases) have been compiled into The Ring Collection releasing December 12, 2023 from Scream Factory's "Scream Factory" label. The 6-disc edition includes The Ring (2002), The Ring Two (2005) – Theatrical & Unrated, and Rings (2017) all on both 4k UHD Blu-ray and 2k HD Blu-ray.
[Note: Scream Factory's release date now shows March 19, 2024, so there may be a delay on this title.]
The Ring Collection 4k UHD/BD has an MSRP of $89.98. Pre-order on Amazon
The Ring (2002)
This cinematic thrill ride will keep you on the edge of your seat, from the stunning opening to the astonishing conclusion! It begins as just another urban legend – the whispered tale of a nightmarish videotape that causes anyone who watches it to die seven days later. But when four teenagers all meet with mysterious deaths exactly one week after watching just such a tape, investigative reporter Rachel Keller (Naomi Watts, Mulholland Drive) tracks down the video … and watches it. Now, the legend is coming true, the clock is ticking, and Rachel has just seven days to unravel the mystery of The Ring.
The Ring Two (2005)
A terrifying legacy haunts a single mother in this sequel to the frightening box-office hit, The Ring. Hoping to leave their terrifying experiences in Seattle behind them, Rachel Keller (Naomi Watts) and her son, Aidan (David Dorfman, Zombie Roadkill), move to the small town of Astoria, Oregon. When Rachel learns of an unexplained murder which occurred after a teenager watched a strange videotape with his girlfriend, she suspects her past is following her.
Rings (2017)
Discover the terrifying new chapter in the groundbreaking Ring franchise. When a radical college professor (Johnny Galecki, The Big Bang Theory) finds the mysterious video rumored to kill viewers seven days after watching it, he enlists his students in a dangerous experiment to uncover the secrets behind the Samara legend. When the deadly video goes viral, they must figure out a way to break the curse and defeat Samara before her evil is unleashed upon the world. But how do you stop her when she's everywhere?
Article updated. Original publish date Oc. 6, 2023.