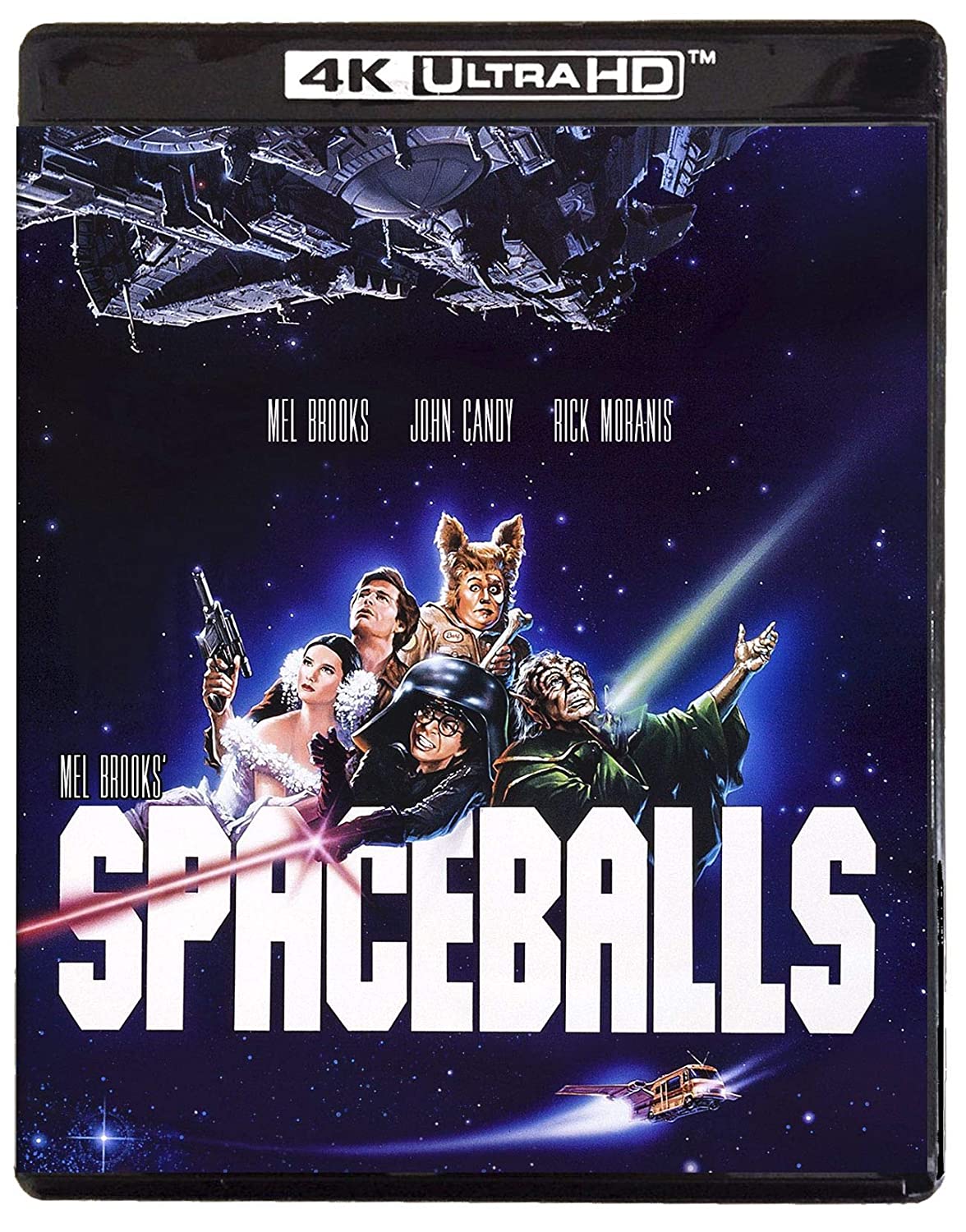 We've got the release date, disc specs, and details for Mel Brooks' sci-fi spoof Spaceballs releasing to 4k Ultra HD Blu-ray. The film is presented in 2160p video resolution with the Dolby Vision HDR spec providing additional color luminance and contrast compared to Blu-ray. For audio, Spaceballs provides 5.1 channel surround sound as well as a 2.0 lossless stereo track. Subtitles are offered in English.
Bonus Features: On the 4k Blu-ray edition of Spaceballs audio commentary from Mel Brooks is provided, while the Blu-ray Disc contains lots of extras such as "Force Yourself," "Spaceballs: The Documentary," Film Flubs, conversation with Mel Brooks and co-writer Thomas Meehan, and more (see details below).
Spaceballs on 4k Blu-ray releases April 13, 2021. The 2-disc edition with Blu-ray from Kino Lorber has a list price of $39.95. Order for $26.49 ($34% off) on Amazon.

Special Features
4KUHD DISC 1:
-HDR Dolby Vision
-Audio Commentary by Mel Brooks
-5.1 Surround & 2.0 Lossless Stereo
-Optional English Subtitles
BLU-RAY DISC 2:
-Audio Commentary by Mel Brooks
-FORCE YOURSELF! Spaceballs and the Skroobing of Sci-Fi with Mel Brooks and Rudy De Luca
-SPACEBALLS: The Documentary
-In Conversation with Mel Brooks and Co-Writer Thomas Meehan
-John Candy: Comic Spirit
-Film Flubs
-Watch SPACEBALLS in Ludicrous Speed
-Storyboards to Film Comparison
-Behind-the-Scenes Image Gallery
-Posters & Art Image Gallery
-Exhibitor Trailer with Mel Brooks Introduction
-Theatrical Teaser
-Theatrical Trailer
-5.1 Surround & 2.0 Lossless Stereo
-Dual-Layered BD50 Disc
-Optional English Subtitles