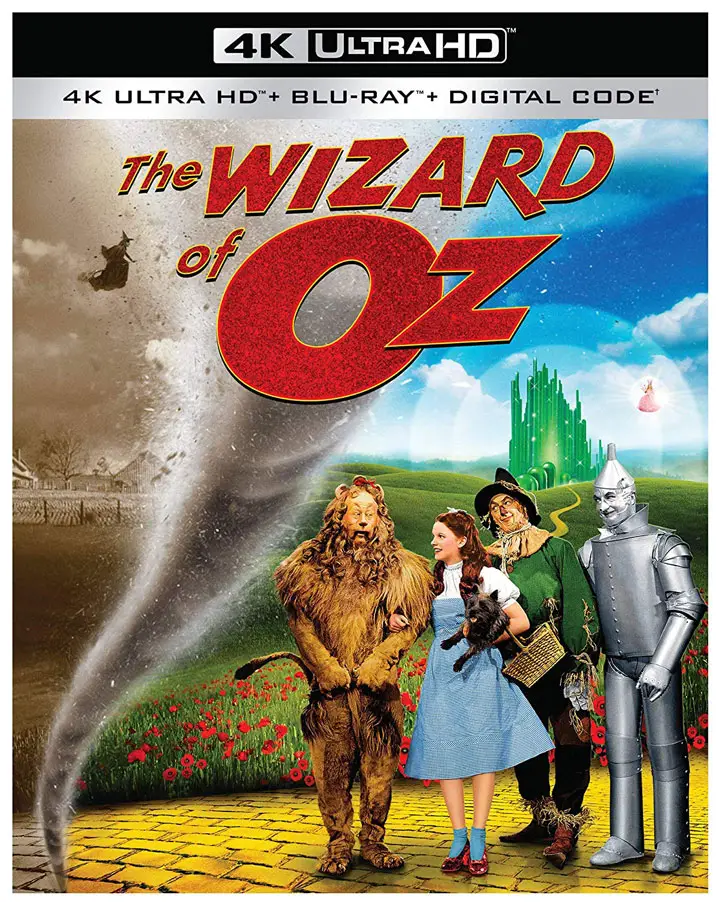 Victor Fleming's The Wizard of Oz is one of those films we've had on our minds as a potential 4k upgrade, and on Oct. 29 we'll see just what it looks like when a 1930s classic gets scanned to 4k UHD. Warner Bros. tells us the original Technicolor camera negative was given a new scan to 8K / 16bit that was then used for the 4K UHD scan.
In addition, the Ultra HD Blu-ray Disc edition of The Wizard of Oz features Dolby Vision for High Dynamic Range color range. MPI colorist Janet Wilson (who has overseen every remaster of The Wizard of Oz for the past 20 years) oversaw the newest remaster for this release.
As far as bonus content, the 4k Blu-ray doesn't have nearly as many special features as the 1080p Blu-ray (all previously released) but it does have commentaries and the 1990 CBS Special "The Wonderful Wizard of Oz: The Making of a Movie Classic." (See special features below.)
The Wizard of Oz is available on Amazon in the "common" 4k Ultra HD Blu-ray edition (pictured above). Best Buy also has their own Limited Edition SteelBook version of The Wizard of Oz on 4k Blu-ray Disc  selling for $34.99 (pictured below).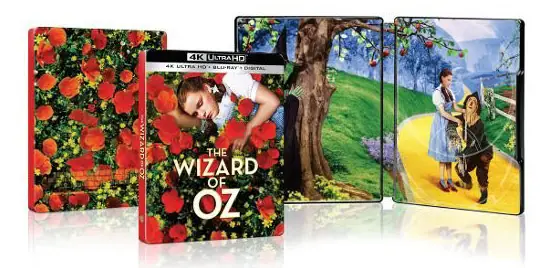 4k Blu-ray Special Features:
Commentary by John Fricke with Barbara Freed-Saltzman, Margaret Hamilton, Ray Bolger, Jack Haley, John Lahr, Jane Lahr, Hamilton Meserve, Dona Massin, William Tuttle, Buddy Ebsen, Mervyn LeRoy, and Jerry Maren.
1990 CBS Special "The Wonderful Wizard of Oz: The Making of a Movie Classic."
Blu-ray Special Features:
Commentary- Commentary by John Fricke with Barbara Freed-Saltzman, Margaret Hamilton, Ray Bolger, Jack Haley, John Lahr, Jane Lahr, Hamilton Meserve, Dona Massin, William Tuttle, Buddy Ebsen, Mervyn LeRoy and Jerry Maren
The Making of The Wonderful Wizard of Oz
The Wonderful Wizard of Oz Storybook (narrated by Angela Lansbury)
We Haven't Really Met Properly…

We Haven't Really Met Properly: "Frank Morgan"
We Haven't Really Met Properly: "Ray Bolger"
We Haven't Really Met Properly: "Bert Lahr"
We Haven't Really Met Properly: "Jack Haley"
We Haven't Really Met Properly: "Billie Burke"
We Haven't Really Met Properly: "Margaret Hamilton"
We Haven't Really Met Properly: "Charley Grapewin"
We Haven't Really Met Properly: "Clara Blandick"
We Haven't Really Met Properly: "Terry"

Music & Effects Track
Original Mono Track
Sing-Along Tracks
Audio Jukebox
Leo is on the Air Radio Promo
Good News of 1939 Radio Show
12/25/1950 Lux Radio Broadcast
Stills Galleries

Oz on Broadway
Pre-MGM
Sketches and Storyboards
Richard Thorpe's Oz
Buddy Ebsen
Oz Comes to Life
Behind the Scenes
Portraits
Special Effects
Post Production
Deleted Scenes
Original Publicity
8/15/1939 Hollywood Premiere
8/17/1939 New York Premiere
2/29/1940 Academy Awards® Ceremony
Oz Abroad
Oz Revivals

Trailers
[amazon_link asins='B07WJR9Q3M' template='ProductGrid' store='hdrep-20′ marketplace='US' link_id='99c87817-daac-4929-bb05-f8dbd5f2196f']