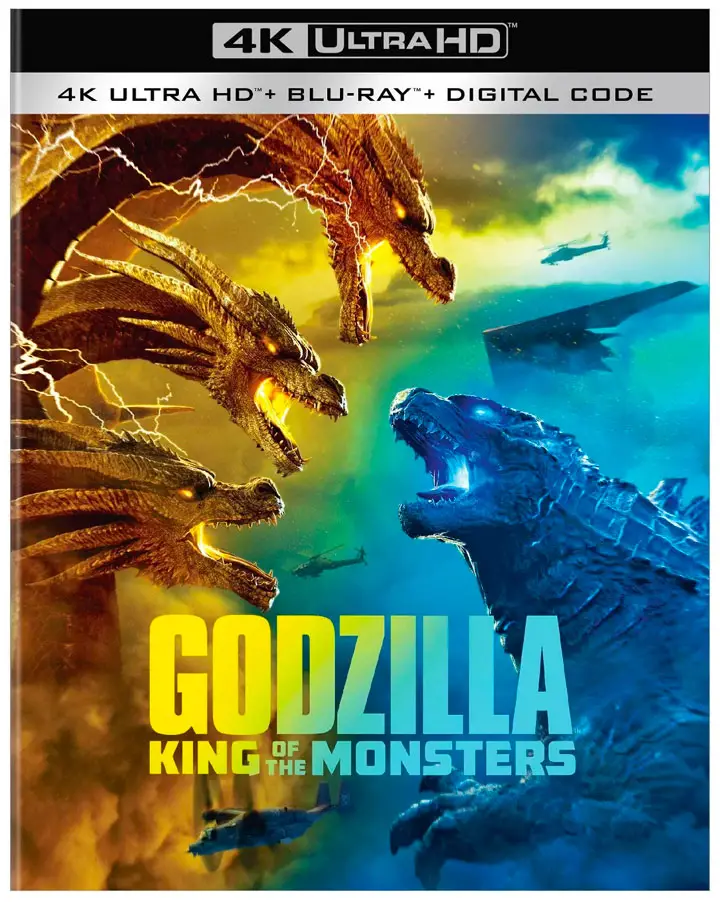 Warner Bros. has officially announced details on the Blu-ray, DVD and Digital releases of Godzilla: King of the Monsters, and with the specs comes the news of the title being their first to support HDR10+.
The film will first be available to purchase in digital formats including Digital 4k UHD on Tuesday, Aug. 6, with discs options including Blu-ray Disc, 4k Ultra HD Blu-ray Disc, and DVD to follow on Tuesday, Aug. 27. There will also be an exclusive SteelBook edition from Best Buy ($34.99 US) but the official artwork has not been posted yet.
What's significant about this Warner title is that, as mentioned above, it will be the first from the publisher to feature HDR10+ along with Dolby Vision and HDR10. HDR10+ is an update to HDR10 that allows dynamic rendering of the HDR spec throughout the movie, scene-by-scene, rather than loaded as a static data file at the beginning of playback. Dolby Vision had this ability from the start and therefore claiming an edge on HDR10, but since then HDR10+ there doesn't seem to be an advantage in home theater applications.
On Blu-ray Godzilla: King of the Monsters features an immersive Dolby Atmos soundtrack backed by Dolby TrueHD 7.1, with optional subtitles in English, Latin Spanish, Canadian French, Parisian French, Brazilian and Portuguese,
There are plenty of extras on the home media releases of Godzilla: King of the Monsters, which will likely be available through select digital retailers as well. On the Blu-ray releases you'll find deleted scenes, about seventeen featurette types of content, and audio commentary from director Michael Dougherty (see below for the full list).
Godzilla: King of the Monsters is available to pre-order from Amazon on Blu-ray for $24.99 (List: $34.99), 4k Ultra HD Blu-ray for $29.99 (List: $44.95) and DVD for $17.99 (List: $19.99).
Bonus Features
Audio Commentary by Director
Godzilla: Nature's Fearsome Guardian
Mothra: Queen of the Monsters
King Ghidorah: The Living Extinction Machine
Rodan: Airborne God of Fire
Godzilla 2.0
Making Morthra
Creating Ghidorah
Reimagining Rodan
The Yunnan Temple
Castle Bravo
The Antarctic Base
The Isla de Mara Volcano
The Undersea Lair
Millie Bobby Brown: Force of Nature
Monster Tech: Monarch Joins the Fight
Monsters Are Real
Welcome to the Monsterverse
Deleted Scenes
Optional English, Latin Spanish, Canadian French, Parisian French, Brazilian and Portuguese subtitles for the main feature (Blu-ray)
[amazon_link asins='B07RK8PL2M,B07RMGC75V,B07RMWPY3P' template='ProductGrid' store='hdrep-20′ marketplace='US' link_id='15393a4d-276e-446c-9283-8370ae1e8ce3′]