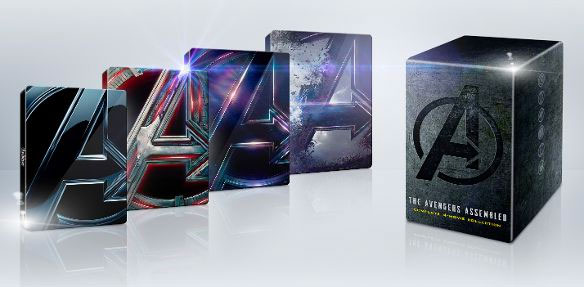 Those of you who not able to collect the 4k Blu-ray editions of the Avengers films will have a second chance to get all four movies from the series on Ultra HD Blu-ray in an exclusive edition from Best Buy.
The Avengers Assembled Complete 4-Movie Collection includes The Avengers, Avengers: Age of Ultron, Avengers: Infinity War, and Avengers: Endgame, as well as a personal letter from Marvel Studios President Kevin Feige that reflects on over a decade of Marvel storytelling.
The boxed set packages 4k Blu-ray, Blu-ray, and Digital Copies of each film and previously-released bonus material enclosed in new exclusive packaging and separate SteelBook cases for each film.
The Avengers Assemble Complete 4-Movie Collection is priced $149 on Best Buy and available to pre-order. This seems a bit pricey considering the individual films in 4k Blu-ray combos range in price from about $29.99 (common 4k Blu-ray) to $34.99 (4k SteelBook), but it is a collectible edition.
An official release date for the boxed set has not been provided.