My Hero Academia: Two Heroes released to theaters in the US last September following the premiere in Japan. And, even though it's been over 6 months the film is still opening in other countries this month including China and Italy.
Here in the US though, both the English and original Japanese version of My Hero Academia: Two Heroes are available digitally for "early access." However, fans of the TV series may want to pick up the 2-disc Blu-ray combo edition that will hit stores on March 26. Or, wait a couple of weeks for a special SteelBook edition on April 8 (pictured below).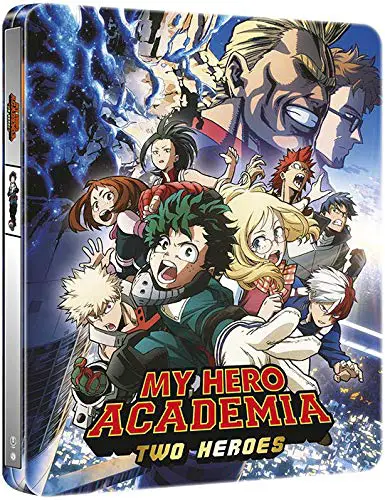 Amazon reviews of My Hero Academia: Two Heroes have been mostly 5 stars, with fans calling it the "Best movie of the year" and "One of the best anime movies out there." "This movie is beyond…Plus…ULTRA!!!!," says another reviewer.
The feature-length film takes place between the second and third seasons of the anime series, and features the characters All Might, Izuku Midoriya, and David Shield. The movie only grossed $5.7M during a limited theatrical run in the US, but in the home media space has enormous potential through digital and physical media.
Also Read: My Hero Academia Live-Action Adaptation: Changing The Tide