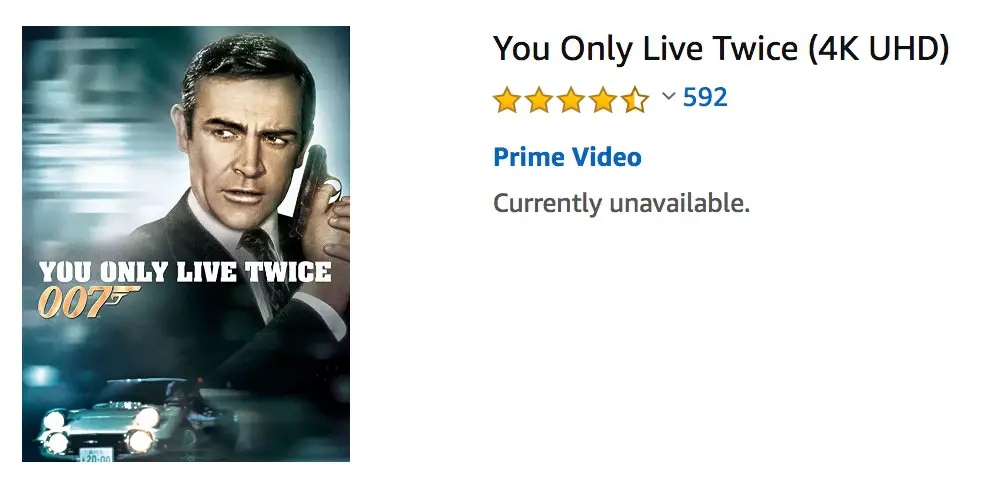 Just about every James Bond film has been listed in 4k UHD on Amazon Prime Video, albeit with a "currently unavailable" alert that means you're not allowed to watch, purchase or rent the title in 4k.
This doesn't mean the Bond titles aren't available in HD resolution, however, and some are even on Prime Video (leaving the library on Feb. 28, 2019).
Does this mean the Bond films will be coming soon to Amazon Video in 4k? One can only speculate, and it's curious the 4k versions are listed in the first place. But, a second alert on each title's page adds some explanation to the unavailability of the movie in 4k, stating, "our agreements with the content provider don't allow purchases of this title at this time."
We checked on all 24 of the Bond films to see if they were listed in 4k (we're super nerdy like that) and found just about every title with the exceptions of any Bond film starring Daniel Craig, On Her Majesty's Secret Service (1969), and The Spy Who Loved Me (1977).
Among the titles that are listed in 4k include titles like Dr. No (1962), Thunderball (1965), and Goldfinger (1964). Even the non-EON Productions film Never Say Never Again (1983) shows up in 4k UHD. But again, not available for viewing.
The Bond franchise is one film collection that's highly desired in 4k (either on disc or digital), and it's important to recognize that somehow Apple got the Bond collection in 4k shortly after the release of Apple TV 4k back in the fall of 2017. And, even earlier Hulu offered Bond films in 4k on Xbox One S and Sony PlayStation 4 Pro.
None of the James Bond titles on Apple TV feature HDR though, the image technology that many say is more significant than more lines of resolution. HDR, however, is still split between Dolby Vision and HDR10, making it difficult to view all titles with HDR on one system.